---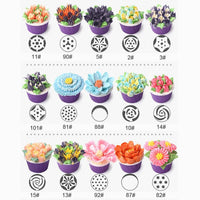 Russian Tip 10 Pc Set
Russian Tips are simple, easy way to create beautiful flowers with buttercream or the icing of your choice.
Contains:

#3, #4, #5, #14, #15, #81, #82, #90, #92, and a coupler.

Clean tips before and after every use!
---
BoxyBake loves cake! We have almost everything you need to create beautiful cakes, cupcakes, cookies, candies, and more for any event! Not only do we have the essentials for making cakes, we have the necessary tools to assemble mind-blowing creations! The possibilities are endless with creativity and the proper tools!