---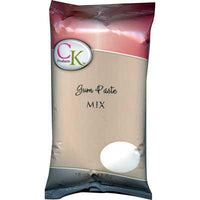 The easy way to make gum paste. Just add water.
Directions: 1 cup gum paste mix and 1 tablespoon hot water. Blend ½ of the mix and the water in a small lightly greased bowl. Stir in balance of the mix. Mix and form into a ball. Grease lightly and wrap in plastic. Let stand 24 hours. Change the amount of water or mix to get the desired consistency.
Net Weight: 16 oz. (453.6g)
Shelf Life: 1 year if kept in cool, low humidity environment.
Note: This product is prepared and packaged using machines that may come into contact with wheat/gluten, eggs, dairy or dairy products, peanuts, soy, tree nuts.
Certified Kosher