---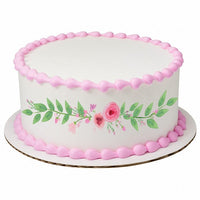 Floral Laurel Tall Edible Image
Made primarily with starch, sugar, and food coloring.
Neutral Taste
Size: 10.45" x 1.7" x .1"
---
Crown Bakery Supply has almost everything you need to create beautiful cakes, cupcakes, cookies, candies, and more for any event! Not only do we have the essentials for making cakes, we have the necessary tools to assemble mind-blowing creations! The possibilities are endless with creativity and the proper tools!