---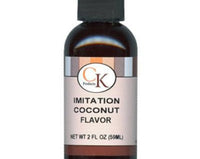 Imitation Coconut Flavoring
Enhances coconut flavor!
Artificial Flavor
Sugar Free
Sensitive to heat and light.
Certified Kosher
Packaging may have come in contact with soy products during manufacturing.
---
Crown Bakery Supply has almost everything you need to create beautiful cakes, cupcakes, cookies, candies, and more for any event! Not only do we have the essentials for making cakes, we have the necessary tools to assemble mind-blowing creations! The possibilities are endless with creativity and the proper tools!