---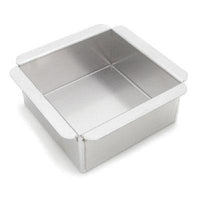 The Magic Line Aluminum Square Baking Pan is used for layered cakes and desserts. This baking pan is 16" square and 2" deep and is made of 14 gauge aluminum that is oven safe to 1000F. Made in the USA.
16 x 16 x 2 inch
14 gauge aluminum
Oven safe to 1000 F
Straight Sides
Use this pan to bake 3 inch layers of cake. It is also used for desserts and other pastries.
For cake, fill the pan 2/3 to 3/4 full.
Also availalble in 3 inch deep.
Hand wash in warm soap water, rinse and dry with a soft cloth.
Not dishwasher safe.
Country of Origin: USA