---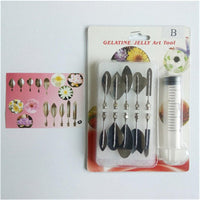 Description:
11 PCS/SET 3D Jelly Flower Art Tools Set Stainless Steel
Jelly Gelatin Pudding Needles Syringe Russian Tips Cake Decorating
Package Included: 1 SET (1 PC Syringe & 10 PCS Needles)
Specification & Caution:
1. Material: Stainless steel needles & plastic syringe.
2. Cleaning: Must be cleaned with warm water before use.
3. Storage: Keep at room temperature and keep dry.
4. Caution: This is not a toy, Keep away from children.
5. Product size: Needle: Approx: 5*2.5cm Syringe: Approx: 11cm
HOW TO USE
Step 1: Allow Jelly tools to soak in warm water to clean.
Step 2: Wash all jelly tools and syringe connection.
Step 3: Prepare production materials and start production.
There are many videos available online for making gorgeous edible show pieces......