---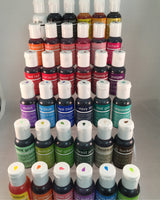 ChefMaster Liqu-Gels Master Kit
Easy to mix!
Master Kit includes 36 vibrant colors!
Perfect for whipped icing and topping, fondant, breads, cakes, and other baked goods!
Doesn't break down in icing!
Fade and bleed resistant
Easy clean up!
High concentrated color!
Gluten free!
---
Crown Bakery Supply has almost everything you need to create beautiful cakes, cupcakes, cookies, candies, and more for any event! Not only do we have the essentials for making cakes, we have the necessary tools to assemble mind-blowing creations! The possibilities are endless with creativity and the proper tools!